The Quercy Blanc region stretches along the Lot and Garonne rivers from Cahors to the city of Agen in the Southwest of France.
Historically the Quercy was a province of the Aquitania Prima region during the Roman Empire. The Romans started to develop the infrastructure and introduced Christianity; evidence of their presence is never far away.
Jumping forward in history, we come to the wars between England and France. In fact much of the Quercy was English territory for almost two centuries starting with the reign of Henry II (1259-1440).
After savage religious and civil wars between the Catholics and Protestants the region was merged into the French Kingdom under Louis XIII of Bourbon.
Travelling through the Quercy Blanc you will soon discover the beauty that sets it apart. It is formed by hills of calciferous stone and fertile open valleys. Each time you go over a hill or enter a new valley, the scenery is guaranteed to make your heart skip a beat. The area is often called the French Tuscany.
That the Lot and Garonne rivers flow through here might be a giveaway, but it is always nice to sit down for a picnic or enjoy a walk along the banks.
Due to the many wars mentioned above, most villages were built on hilltops as fortified strongholds and are well preserved. Penne d'Agenais for instance is one of our most acclaimed villages and one you really must visit.
After a tour of the village, pull up a chair at a terrace and order a cool drink. Man you feel on top of the world!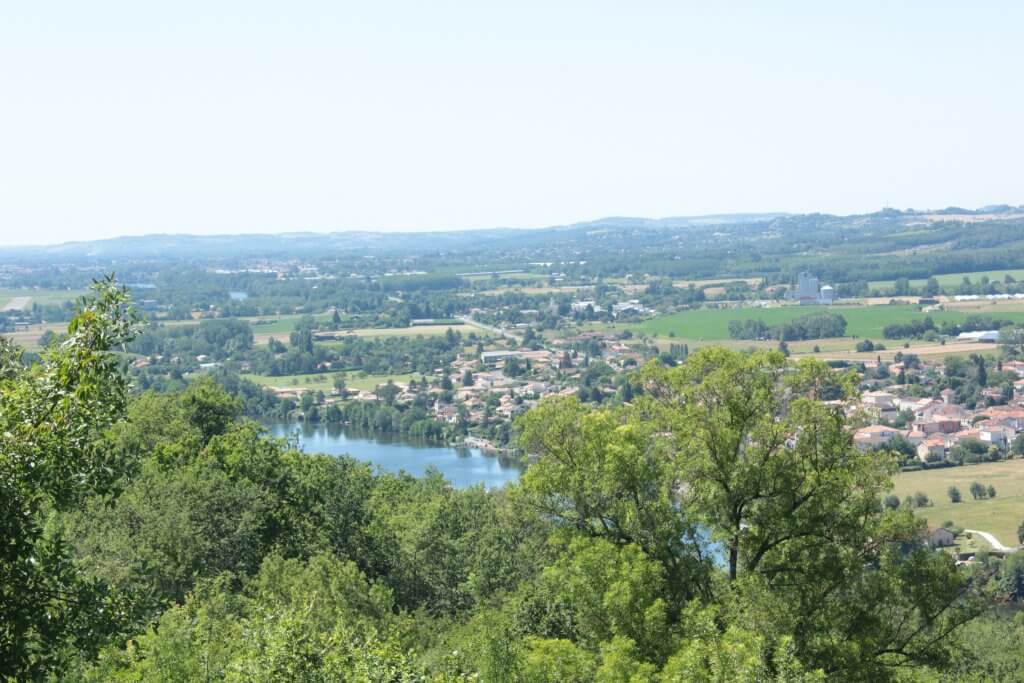 There are small farms scattered around the landscape. The variety of crops colours the fields. The beautiful yellow of rapeseed announces the arrival of spring. 
Soon that's followed by the blossoming of the plum trees. Dried plums – prunes – can be found in many local dishes and products.
Imagine delicious peaches and apples, and don't forget the Chasselas grapes of Moissac. Chasselas juice served ice cold is liquid gold.
Fresh goat cheeses, drizzled with honey on toast followed by a breast of duck roasted over a charcoal fire is a Quercy signature dish.
Well, we are at the crossroads of some pretty interesting vineyards. The most important is the Cahors wine, a dark and powerful wine. It is not to everyone's taste but you will never forget the Malbec grape that gives it this distinctive flavour.
If you prefer sweet wines, try the vineyards of Monbazillac in the Dordogne valley to the north of us. The grapes are Semillon, Muscadelle and Sauvignon Blanc.
To the south of us, Brulhois and Buzet are blends of Sauvignon, Merlot and Cabernet Franc. They specialise mainly in light reds with a similar composition to Bordeaux, but also produce white and rosé wines.
A nice starter for any meal is Floc de Gascogne, an aperitif that is excellent to take home as a gift or to revive the memories of a stay with us. 
Or how about visiting an Armagnac distillery and finding out what your favourite after dinner drink is?
We will make sure you get directions to whichever local wine destinations you want to visit.
How about wines, you might say
There is something to do in every village, whether weekly markets or occasional brocantes.
In July and August, our village of Beauville hosts a "night market" on the Friday evenings. Local producers sell cooked food and drinks. Just pick what you like from the various food stalls and sit down at the communal tables on the village square. There is live music and a small lottery. Time will fly!
There are more than enough restaurants, ranging from Michelin-starred to unpretentiously good. We know where to find them and we'll share that with you.
In short, whether you want to discover the area by car, motorcycle, bicycle or on foot, there is something for everyone. and special routes to serve everyone.
But hey, if you do not feel like moving at all, that is just fine too! It is your vacation. Take a stroll around the property or take a look at some of the irrigation lakes. One of them is just behind the neighbour's farm.